One of the basic principles of the Better Bones Program® is that all osteoporosis, all excessive bone loss, or all real increased risk of low-trauma fracture has a cause. To better understand any undetected causes of bone loss, it is important to obtain a medical work-up — that is, further tests that can help find the causes of osteoporosis.
In addition to the standard DEXA bone density test, we suggest that our clients discuss the following tests with their doctor to see which ones are appropriate. Below are examples of tests that could be helpful and the basics of what the test results mean so that you can better discuss your personal situation with your doctor. Join us for my online course that explains these medical tests for osteoporosis, which also includes a printable e-book you can bring to your doctor!
Ionized calcium test *
Intact parathyroid hormone blood test (iPTH)*
24-hour urine calcium excretion test *
Thyroid hormone function test (TSH)*
N-telopeptides crosslinks (NTx) urine marker of bone resorption test*
N-telopeptides crosslinks (NTx) serum marker of bone resorption test*
Dpd urine marker of bone resorption test (deoxypyridinium crosslinks test)
Vertebral deformity assessment
Free cortisol test (blood or saliva)*
DHEA test (blood or saliva)*
C-reactive protein test (high sensitivity if possible)*
Homocysteine test (plasma or serum)*
Celiac disease and gluten sensitivity test*
Sex hormone test*
*Some of these tests are available from a self-pay service that has partnered with the Better Bones Foundation. If you are unable to access these tests from your doctor, scroll to the end of this blog for more information.
Tests to help reveal what causes osteoporosis
Vitamin D 25(OH)D blood test
This test determines your blood level of vitamin D. The results tell you the amount of vitamin D supplementation needed to reach a therapeutic blood level of vitamin D, which is important for adequate calcium absorption and basic bone support.
What your results tell you: The reported "normal" range is very wide, often from 30 to 100 ng/mL. We now know that anything less than 32 ng/mL is likely to seriously limit calcium absorption and lead to bone loss. At the Center for Better Bones, we strive for a 50-70 ng/mL blood level of 25(OH)D.
Ionized calcium test
This is a simple blood test to measure the level of free calcium — that is, the metabolically active portion of calcium not bound to proteins in the blood. This test isn't meant to assess the appropriateness of your calcium intake as much as it is meant as an indirect test of parathyroid functioning (see below). It can also indirectly tell us some things about vitamin D status.
What your results tell you: The body controls free calcium in the blood very tightly, with a normal laboratory range between 4.8 and 5.2 mg/dL (between 1.2 and 1.3 mmol/L) as reported by the Merck Index. When thinking of bone health, we look for high ionized calcium as a possible indirect indicator of excessive parathyroid hormone activity. A low ionized calcium level might be related to low albumin and low protein status.
Intact parathyroid hormone blood test (iPTH)
High parathyroid hormone levels are associated with excessive bone loss, as an overactive parathyroid gland draws calcium from bone. The medical reasons for this overactivity need to be addressed to halt the excessive bone loss. Also, a normal parathyroid reading in the face of vitamin D deficiency can indicate magnesium inadequacy.
What your results tell you: At the Center for Better Bones, we look for an intact parathyroid hormone level within the normal range established by the particular testing laboratory. Two common causes of an excessively high parathyroid hormone level are vitamin D deficiency (which is easily corrected with proper vitamin D3 supplementation and monitoring); and an overactive parathyroid, which is most often due to benign tumors on the parathyroid glands. Correction of this situation often requires surgery to remove the overactive glands.
Excessively high parathyroid hormone levels cause the body to release too much calcium from the bone contributing to bone loss, and more importantly, high blood calcium. A high parathyroid condition is best treated by an endocrinologist.
24-hour urine calcium excretion test
This test looks at how much calcium is being excreted in the urine. For this test, you collect all your urine over 24 hours in a large container for laboratory analysis to measure the amount of calcium in the total volume of urine. Excessive urinary calcium excretion is a common cause of bone loss and osteoporosis.
What your results tell you: The normal laboratory range for a person eating an average diet is around 100 to 250 mg of calcium lost in the urine each day. I consider a calcium loss of more than 250 mg to be a concern. In such cases, the first step is to stop all calcium supplements for 4 to 5 days and then retest the 24-hour urine calcium. If the urine calcium loss is still high, then steps should be taken to reduce this loss of calcium in the urine, as it can cause bone loss. Nutritional, lifestyle, and medical approaches can help.
Thyroid hormone function test (TSH)
TSH is a hormone produced in the pituitary gland that signals the thyroid to produce more of its hormones. If TSH is high, it usually means that the thyroid isn't producing enough T3 and T4, so checking your TSH level is a simple way of screening for an underactive thyroid. Thyroid hormone levels that are too high or too low can contribute to osteoporosis, as can a dose of thyroid medication that is too high. To screen for overactive thyroid, or to make sure your dose of thyroid medications isn't too high if you're already being treated for hypothyroidism, you'll need tests for free T3 and free T4.
What your results tell you: The common laboratory range for all adults is 0.35 to 5.50 and a more ideal level is 0.35 to 2.0.
Markers of bone resorption tests
Bone resorption (or breakdown) tests measure the amount of one specific bone protein in the urine or blood. As one loses bone this bone protein fragment shows up in the urine and blood in increased amounts. At the Center for Better Bones, we generally use the N-telopeptides crosslinks (NTx) urine test, but there are several others available. One commonly used test is the urine Dpd test (deoxypyridinium crosslinks test). There is also an NTx serum test and the CTX serum test.
As there can be a great deal of day-to-day variation in urine bone breakdown markers, we've developed a two-day collection procedure for bone resorption testing for greater accuracy. These instructions can be used for either the urine NTx or the Dpd test.
N-telopeptides crosslinks (NTx) urine marker of bone resorption test
What your results tell you: The test result "normal" range often listed on the test report is very broad. For example, test reports from our local lab list the premenopausal normal range for women as 17-94 nM BCE/mM creatinine and the postmenopausal range as 26-124 nM BCE/mM creatinine. The male range is 3-51. These ranges are far too wide to be useful.
Ideally, a woman would like to have an NTx level near that of the average premenopausal woman, which in the urine is around 35, but levels often soar into the 60s to 80s or higher in and around menopause. For adult men, the mean NTx is 27, which is a more ideal value than the higher numbers. Also, these markers can get very high in rare diseases such as Paget's Disease and bone cancer. These situations are unusual and understood by a knowledgeable physician familiar with bone resorption testing.
We use the NTx urine test from Osteomark to judge the success of our bone building program. We look to bring the urine NTx level down to the 40's, which in most cases indicates that bone breakdown has normalized. There are some cases, however, where bone breakdown is very low, but bone build-up is even lower. This condition, known as "low turnover osteoporosis," is detected when a person has a low NTx, but is still losing significant bone (5-6%) as seen on bone density testing.
N-telopeptides crosslinks (NTx) serum marker of bone resorption test results
What your results tell you: The NTx bone-breakdown marker can also be measured in the blood. The female range listed by the manufacturer is 6.2-19.0 nM BCE/L, with a mean of 12.6. The male range is often listed as 5.4-24.2 nM BCE/L, with a mean of 14.8. Again, this range is too wide to be useful for us at the Center for Better Bones. We look for a result of 12 or somewhat lower in women, and 14 or somewhat lower in men.
Dpd urine marker of bone resorption test (deoxypyridinium crosslinks test)
What your results tell you: This bone resorption test also lists a broad range of normal values — for women, 3.0 to 7.4 nM/mM and for men 2.3 to 5.4 nM/mM. Clinically, adult women should strive for a Dpd test score in the 4s, and in men an ideal level would likely be somewhat lower.
Vertebral deformity assessment
This is another x-ray test for bone that images each vertebral body of the spine and looks to see if there are deformities or fractures. The Vertebral Deformity Assessment can be done on newer bone density testing machines, with special software that takes a "lateral" view of the spine.
What your results tell you: The radiologist will give a full report of what he or she sees for each vertebral body, reporting any abnormalities, deformities, or fractures.
Free cortisol test (blood or saliva)
Cortisol is a corticosteroid hormone produced by the adrenal cortex, which is part of the adrenal glands. It is usually referred to as the "stress hormone" as it is involved in response to anxiety and stress. Abnormally high cortisol levels are damaging to bone and as such represent a major risk factor for osteoporosis and low-trauma fractures. This test can be done with blood or saliva.
What your results tell you: Cortisol is the "get up and go" hormone that should rise in the early morning and decline during the day. Thus, test results vary by what time of day the test was taken. Testing labs will give their normal range readings and the timing of the test should be taken into account when interpreting test results.
DHEA test (blood or saliva)
Dehydroepiandrosterone (DHEA) is a hormone produced by both the adrenal glands and the ovaries. DHEA helps to neutralize the effects of cortisol. DHEA helps to protect and increase bone density. Stress reduction activities like yoga and meditation can help maintain youthful DHEA level as we age. Low levels of DHEA are a risk factor for osteoporosis. This test also can be done with blood or saliva.
What your results tell you: In saliva testing, the results are often correlated with the results of the cortisol testing. It is also often measured as DHEA-S, that is, DHEA in its sulfated form. Again, each lab will offer its normal range depending on the test used.
C-reactive protein test (high sensitivity if possible)
C-reactive protein is a plasma protein that is held to be a marker of general inflammation within the body. It is a known risk factor for heart disease because heart disease is largely an inflammatory disorder. Osteoporosis is also inflammatory in nature and this test is helpful in detecting unwanted inflammation, which may contribute to bone health problems.
What your results tell you: Generally, in the C-reactive protein (or CRP) test, the lower the score the less inflammation and thus the better reading. I look for a high sensitivity CRP level less than 1.0mg/dL.
Homocysteine test (plasma or serum)
Homocysteine is a non-dietary amino acid, a product of the metabolism of a dietary amino acid, methionine. In the absence of adequate B vitamins, homocysteine can accumulate in the body. High levels of this substance damage collagen and represent powerful risk factors for both cardiovascular disease and for osteoporotic fractures.
What your results tell you: Normal levels of homocysteine in the blood range from 5 to 15 mM/L. At the Center for Better Bones we like to see a homocysteine level of 8 or below.
Celiac disease and gluten sensitivity test
Celiac disease, or even just sensitivity to gluten, can lead to inflammation of the gut. This inflammation is related to a complex inflammatory cascade which can increase bone loss. Also, those with celiac disease suffer from weak digestion and malabsorption of many nutrients including vitamins A, K, and D. These deficiencies in turn damage bone. If there is any suggestion of gluten sensitivity or celiac disease, appropriate testing should be considered
What your results tell you: There are varied tests used to help determine if one is suffering from gluten intolerance or the autoimmune condition known as celiac disease. Talk with your healthcare practitioner about what might be right for you.
Sex hormone test results
Post-Menopausal Females: Progesterone, Estrogen
Female sex hormones drop naturally at menopause among all women, so I don't generally suggest testing of these hormones. Those interested in this type of hormone testing, or those taking hormone replacement medications, should be tested for hormone levels by their physician.
Pre-Menopausal Females (reproductive years hormone testing): Progesterone, Estrogen
For women from their teens to menopause, proper levels of sex hormones are very important to bone health. Low levels of either estrogen or progesterone can limit development of optimum peak bone mass. Irregular, or frequently missed, periods should be studied by a knowledgeable physician.
According to noted progesterone researcher, endocrinologist Dr. Jerilynn Prior, some 25% of young women in the US and Canada fail to develop optimum peak bone mass due to undetected ovulatory disturbances which result in low progesterone levels. Testing of estrogen and progesterone can be helpful in pre-menopausal women with a bone health concern.
Both blood and saliva testing are available for pre-menopause sex hormone testing. Each testing laboratory will have its range of normal sex hormone test results.
Sex Hormone Testing in Males: Testosterone and, at times, Estrogen
A common cause of osteoporosis in men is low testosterone; thus a medical work-up for osteoporosis in men almost always includes a test for testosterone. Interestingly enough, estrogen also plays a role in male bone health and at times the physicians will test for estrogen in men with osteoporosis.
Both blood and saliva testing are available for sex hormone tests in men. Each testing laboratory will have its range of normal sex hormone test results.
Omega-3 Index+ at-home test
This is a simple at-home blood test that measures the Omega-3 Index, Omega-6 to Omega-3 Ratios, Trans Fat Index and Complete Profile of 24 individual fatty acids. This test will explain what other fatty acid levels can (or can't) tell you about your health, based on current research. Omega-3 fatty acids have been shown to benefit a wide variety of health conditions. They've also been associated with healthy aging in general. Unfortunately, most people don't get enough of these important nutrients from their diet. Once you know your fatty acid blood levels, you can modify your diet and change these blood levels in as little as 3-4 months.
What your results tell you: As a part of an overall healthy lifestyle, an Omega-3 Index in the 8-12% range may help to maintain heart, brain, eye and joint health, and a Trans Fat Index of less than 1% may help to support heart and brain health. Further, studies show that an Omega-3 Index score of 6.8 or above is associated with a 35% lower risk of fatal heart attacks, a 34% lower risk of death from any cause, and a 4.7 year increase in additional life expectancy when compared with the average American Omega-3 Index score of 4.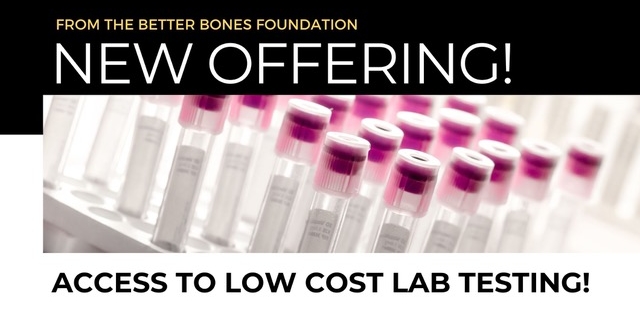 Everyone deserves the full story on their health
It seems like today's health care has become a knee-jerk reaction of "see a symptom, take a pill." But we at the Center for Better Bones believe that everyone deserves better than that. Your bone loss is a symptom of something that's just not right in your body — and rather than treating the symptom with medications (and living with the side effects involved, some of which are plain frightening!), I encourage everyone to dig deeper and find out the source of the problem.
New Offering from the Better Bones Foundation
Skip the doctor and order your tests online! So many times we hear from our clients and readers that their MDs are not willing to order the tests that they request. This is such a frequent occurrence that we wanted to find a way for women to obtain these necessary tests. In partnership with The Better Bones Foundation and Evexia Labs, we are now able to offer low-cost self-pay tests for those who want to know WHY they are losing bone.
The process is easy . . .
#1 Select the tests that you are interested in and submit your form below. Make sure you include your full address with city, state, and zip code. We will pass this information on to the lab on your behalf.
#2 Wait for an email from Evexia Lab with your username and password (also check your spam folder). Once you log in you will then be able to see the cost of the tests and can choose to self pay (no insurance accepted). After you pay Evexia will email you a requisition form for the lab.
#3 Print your requisition and take it to the nearest Labcorp facility. You can find a Labcorp close to you using this link: https://www.labcorp.com/labs-and-appointments. Self-pay testing is not available in NY, NJ, and RI.
#4.  In 2 to 4 weeks after getting the tests done, you will receive your lab results via an email notifying you that the results are ready. They can be viewed in your account or you can print them out and take them to your doctor for interpretation.